Discover more from Women's Cycling Weekly
Weekly newsletter bringing a roundup of content and news from the world of women's cycling.
Over 1,000 subscribers
Finally, some Giro details 🥳🇮🇹
➕ RideLondon is carnage and SD Worx win AGAIN in Germany
Hello lovely subscribers and welcome to Women's Cycling Weekly! 🚴‍♀️
There's two high-level stage races on at once and my brain can't cope. How do men's racing fans do this like all the time??
It's funny, though, because SD Worx are only at one of these races and while they're going about winning every. single. stage. of Thuringen (including their 14th 1,2 podium this year!!) today's first stage of RideLondon was one of the more active and open races I think we've seen for a while. Sure, the pre-race favourite won in Charlotte Kool, but Trek, Canyon//SRAM, and even Liv Racing really threw the kitchen sink. Unfortunately, Trek also had little choice because their sprinter, Elisa Balsamo, crashed out of the stage early on (more info on that below).
In this week's subscriber-only newsletter I posed the question of whether SD Worx's chokehold on the racing is making things boring, and concluded that, while on paper it should, it actually isn't when you see the race behind them. Watching RideLondon, though, maybe I'm wrong. The only way to find out is to fire up multiple screens this weekend and watch both races 😵‍💫.
P.s we have *some* info on the Giro Donne at LAST. And I low-key thought the organisers were reading this newsy because it came out the morning after I slated them in the Wednesday newsletter for giving us nothing until then…
Enjoy this week's newsletter!
Amy x
---
News 📰
British Cycling have issued a new policy blocking transgender riders from competing in the women's category. Under the new policy competitive events will be categorised as either female or "open" with only the latter being open to Transgender women, men, and non-binary athletes.

The race starts in just five weeks, but the Giro Donne organisers, PMG/Starlight have only just released details of the race. In a press release sent out on Thursday they linked this Google Drive including, helpfully, a "Picture of Roberto Ruini, Director of Giro Donne." Thanks, lads.

The press release also included details of the start and finish locations and distances of each stage as well as maps. No profiles just yet, though. The same press release also revealed that there will be nine stages, including a brutal transfer day from Alassio, in the north-east of the country, to the island of Sardinia for the final two stages.

Elisa Balsamo (Trek-Segafredo) has abandoned RideLondon on stage one after multiple crashes. It was a particularly perilous stage which saw Ceratizit-WNT's Ariana Fidanza and FDJ Suez's Gladys Verhulst also DNF.

Update: Trek-Segafredo released this statement on Friday evening 😢:

"After crashing out of Ride London Stage 1, Elisa was taken to hospital as a precaution and for further examination. X-Rays and scans revealed that she has suffered a fracture of the left scaphoid bone as well as fractures of both the left and right mandible which will require surgery. She will undergo surgery either tonight or tomorrow in the UK. More updates to follow."
---
Read  🗞️
---
Listen 🎧
A Burgos roundup from Abby, Loren, and Matt.
---
Results 🏆
Road
RideLondon Classique (2.WWT)
Stage 1: Charlotte Kool (DSM)
Vuelta a Burgos Feminas (2.WWT)
Stage 3: Lorena Wiebes (SDW)
Stage 4: Demi Vollering (SDW)
Internationale LOTTO Thüringen Ladies Tour (2.Pro)
Stage 1 (TTT): Team SD Worx
Stage 2: Mischa Bredewold (SDW)
Stage 3: Barbara Guarischi (SDW)
Stage 4: Lonneke Uneken (SDW)
Antwerp Port Epic Ladies (1.1)
Marthe Truyen (FED)

Franziska Koch (DSM)

Audrey Cordon Ragot (HPH)
ZLM Omloop der Kempen Ladies (1.2)
Charlotte Kool (DSM)

Daria Pikulik (HPH)

Maike van der Duin (CSR)
---
Upcoming races 📆
Road
27th - 28th May - RideLondon Classique (2.WWT)
Live on Eurosport/GCN+ and BBC iPlayer from 13:00 BST (14:00 CEST) on the 27th and 15:00 BST (16:00 CEST) on the 28th.  

Details of how to watch on the BBC here.
27th - 28th May: Internationale LOTTO Thüringen Ladies Tour (2.Pro)
Live on Eurosport/GCN+ from 13:10 CEST on the 27th and 12:30 CEST on the 28th.  
28th May: Gran Premio Ciudad de Eibar(1.1)
29th May: GP Mazda Schelkens (1.2)
31st May - 4th June: Vuelta Ciclista Andalucia Ruta Del Sol (2.1)
---
Friday fun🕺
Think you might need a bike fit, Marlen.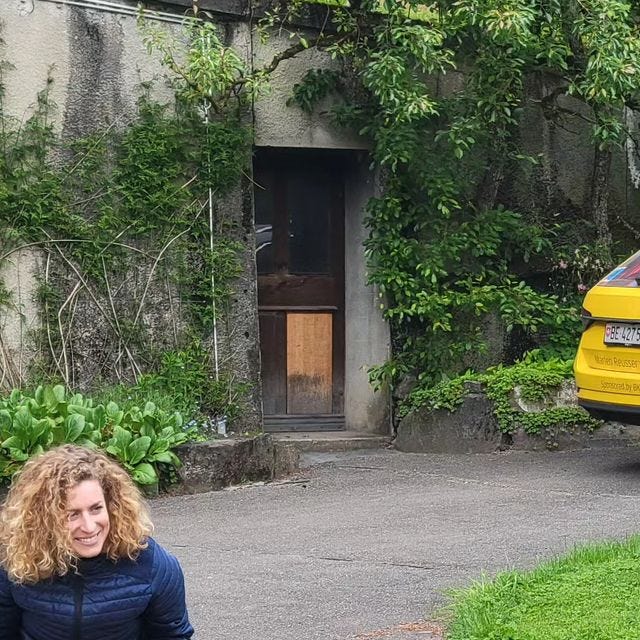 Marlen Reusser on Instagram: "My two days home were busy, as always. But also as always, I didn't forget the fun. 😉 Now on our way to the french alpes for altitude. I will stay together with my boyfriend, that makes me happy! 📸
@velafrica
#home
#likeabike
#happyness
#livingthelife
"
I rlly hope this giant stuffed unicorn is in Elisa Balsamo's vicinity rn 🦄
Also this girl has very questionable (but also very Italian) eating habits that include putting parmesan on rice…
Peter van der Veen has made a list of the length of broadcast of each WWT race so far this season and it's very interesting and telling!
---
That's all 👋
Thanks for reading Women's Cycling Weekly! 💘
If you want to see more from us then please consider becoming a paid subscriber!
And you can also
Amy x